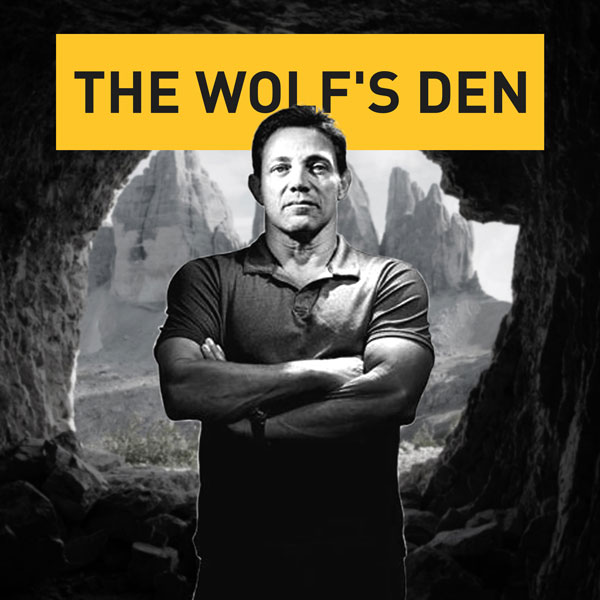 EPISODE #1 - Dan Fleyshman
In this premiere episode, Jordan blasts off his podcast career in blazing fashion by sitting down with self-made media mogul and influencer guru, Dan Fleyshman.
These two global forces go head-to-head, as they expound upon a wide range of topics that are sure to catch your attention, and hold your interest.
Whether it's the five steps you must follow to become a top influencer, or how to take your brand to the next level, you will quickly come to understand that you learn more from your failures than your successes, and the best ways to capitalize on this fact.
Dan is well-known for his graciousness and generosity, and famous for going out of his way to help others without expecting anything in return. You will see that Dan is in a whole different league when it comes to branding, particularly in the influencer space.
This is, without a doubt, one podcast you don't want to miss.
EPISODE #2 - Patrick Bet-David
In this wide-ranging and highly informative podcast, JB and Patrick touch upon everything from entrepreneurship, to child-rearing, to politics, and what "privacy" means in the digital age. Donald Trump, Bill Clinton, Patrick's brief childhood in Iran, China, the importance of mentors, and even Monica Lewinski are discussed — along with much more — in Jordan's trademark, unfiltered and provocative style.
In this multi-generational tete-a-tete, JB mixes it up with internet sensation Logan Paul, as they discuss everything from what it takes to stand out in the crowded and competitive world of social media, to maturing in the modern world. LP takes a seat and learns from the Master Wolf, and JB, in turn, gleans some knowledge from the new kid on the street. Both gentleman are world-renowned titans in their fields and one thing is for sure, you will learn a ton from them both.
EPISODE #4 - Jan Black & Laura Owens
This dynamic trio generates lively conversation that takes us through generational differences and how they're affecting our society. Jordan reveals some true beliefs about depression, social media, millennials, homelessness, and much more! Jan Black & Laura Owens are true experts in the self-help field and possess true understanding of how to help people through deep and meaningful dialogue. This is a must listen for anyone who is intrigued by quality banter about serious current issues that affect us all.
In this installment of the Wolf's Den, JB interviews his old friend, Tommy Chong. Tommy gained fame in the seventies as the Anglo half of the legendary, ganja-obsessed comedy duo, Cheech and Chong. He's managed to remain in the limelight pretty much ever since by appearing in a wide variety of movies and television shows, as well as selling his own brand of water pipes. Chong's bongs landed him in a little hot bongwater a few years back, and he ended up befriending JB when they were both at camp upstate.
JB and Tommy reminisce about their days inside when they were bunkmates, talk Trump, politics, weed, and women, and generally have a familiar and fascinating conversation about everything from government conspiracy theories, to the Russian involvement in the 2016 election, to living in the moment.
EPISODE #6 - Jeff Beacher
In this week's outrageous installment, JB hosts Impresario, Jeff Beacher, founder and ringleader of Beacher's Madhouse. Known as a modern-day P.T. Barnum, Jeff made a name for himself hosting parties and putting on wildly popular live shows in the Vaudevillian tradition – harkening back to the pre-motion picture days of traveling side-show circuses.
These two old friends are no strangers to madness and mayhem, and they waste no time launching into a decidedly candid, sordid, and un-PC conversation that touches on such salacious topics as midgets seducing models with hypnotism, the challenges of engaging in obesely overweight sex, Miley Cyrus riding a dildo, Paris Hilton riding an Oompa-Loompa, pornography, the best ways to pick up chicks, Kim Kardashian's ass, Amazon Ashley, Kelly Osbourne, antics in the Stratton Oakmont boardroom, drugs, religion, how JB invented the internet, how Jeff invented fake news, more drugs, strippers, hookers, health, and hoverboards.
In the short history of the podcast form, I'm not sure there has ever been one quite like this.
Not for the faint of heart or easily offended, you will learn more than you ever wanted to learn and laugh more than you'll want to admit.
EPISODE #7 - Armani Izadi
In this colorful episode, Armani and Jordan open up the spray cans, shake the metal ball around, and splatter the walls of the Wolf's Den with stories of models, Vegas night clubs, publicity antics, and graffiti mansions! Armani has recently been running around with Jake Paul and Team 10 and they've managed to get into no shortage of mischief. . Armani has become a renowned and sought-out "Mood Director" in his own right and this guy sure knows how to throw a party. If you've ever been clubbing, or plan on going anytime soon, you'll definitely want to hear some of these wild, true stories!
EPISODE #8 - Omar Ellattar
In this edition of the Wolf's Den, JB sits down with fellow podcaster, Omar Ellattar, and they proceed to delve into such intriguing topics as the unlikely invention of Hot Cheetos, the trouble with hot tempers, and the remembrance of some very dark thoughts.
Omar gets nitty-gritty real here, as he talks publicly for the first time about his severe childhood depression, which got so bad that at one point it led to him actually contemplating shooting up his school. Thankfully, a more reasonable mood prevailed, and he never took this action. It's a very deep and shocking moment, I can assure you. They go on to discuss Omar's podcast career, stalking Grant Cardone, and a variety of other topical subjects sure to educate and entertain.
Right from the jump, Jordan calls out Ed Mylett for looking identical to Drax the Destroyer, AKA Dave Bautista, from the Guardians of the Galaxy series. Jordan and Ed share a laugh about this, and Ed talks about how it happens to him all the time. Not sure if that's a good thing or not… We'll go with good for now. These two powerhouses create the ultimate duo when it comes to addressing such topics as finding your identity, self-worth, and creating a better life for yourself. They proceed to pull no punches as they share their views on difficult topics like the current political climate, Trump, illegal immigrants, and much more. It's like a veritable super-hero movie come to life as the Wolf battles the Drax, with a little Dr. Strange mind-reading thrown in for good measure.
EPISODE #10 - Rory Kramer
From the deep rock quarries of rural Indiana, to the tallest cliffs around the world, Rory Kramer is the rare kind of balls-out adrenaline junkie who — no matter where and when you find him — you can bet he's doing something insane.
This episode of the Wolf's Den takes a long leap into explaining how to understand what fear really is, how to map it in your mind, control it, and channel it to become unstoppable.
With all he has accomplished already with such various household names as Justin Bieber and the Chainsmokers, it seems like Rory is still just getting started. His young spirit and wise nature seem poised to propel him to even greater things in life. This is a must listen!
EPISODE #11 - Stephan Spencer
Stephan Spencer is an SEO expert, acclaimed author, and world-renowned speaker. He has toured the world teaching companies how to maximize their presence on the web's top search engines. He is a bona-fide master of his craft, and if you want to learn how to enhance your own company's exposure, this is a must listen!
JB and Stephan speak about meeting their current partners and how enlightenment played a part in Spencer's life after he attended a Tony Robbins event. Stephan explains how he had a transcendental experience with a group of monks, which resulted in a permanent shift in his brain chemistry that changed his whole life.
He goes on to say that following this cosmic encounter, he began to manifest things in his life in an almost magical fashion. This story is is truly unbelievable and after hearing it, you just might end up enlightened and transformed yourself!
EPISODE #12 - Nick Santonastasso
Nick is a true inspiration who will make you completely rethink the way you complain about problems in your own life. He had a once-in-a-lifetime opportunity to move to LA and appear on a TV show, but the project fell through and he was forced to survive on peanut butter for six months, because he didn't want to return home and be considered a failure in his parents' eyes.
Nick teaches us that we are all born with natural confidence — you just need to dig down deep inside yourself and bring out the special skill(s) that each of us possess.
His parents were an early positive influence in his life. Rather than putting a spotlight on his syndrome and making a big deal out of it, they went the complete opposite route and just treated him just like any other kid. They let him experience real-life struggles on his own, as they explained to him that the world wasn't going to adapt to his needs.
Nick heeded this advice and made the decision to adapt to the world instead, which helped him develop his problem-solving muscles. He had no choice but to find his own unique solutions to overcome the obstacles he encountered, and that's exactly what he did. He views himself as a unicorn with super powers, and believes everyone else should view themselves in this fashion as well. Nick is a one-of-a-kind individual with an attitude, and a mindset, that is truly remarkable. By the time you finish listening to this podcast, you will have a whole new outlook on life.
EPISODE #13 - Lidor Dayan

Lidor is a life coach who focuses on the connection between mind and body. He teaches people that through fitness, you can not only change your body, but also your belief system with regard to how you perceive yourself. This is achieved through mental discipline, which is the key to self-improvement.
Lidor trains people using his signature DHD system, which is: Discipline, Hard work, and Dedication. He believes that emotions come from motion; once you start to move your body, it will have a positive influence on your mind, and vice-versa.
All you have is your brain, heart, and two hands. Once you start using all three together to handle the problems you face in life, your problems will become easier to solve.
He also tells us that when you're in a negative state, all you need to do is train yourself to shift out of it. With practice, this process becomes easier and easier. This is a very helpful skill to possess, particularly in the wake of the current news cycle.
EPISODE #14 - Grant Cardone
Not since the Rumble in the Jungle has the world seen two heavyweight champions face off like this… and if you think Foreman and Ali had their differences, wait until you see this pair of friendly foes go toe to toe. With the ocean breezes blowing in the background, it's Ten Times Vs. The Straight Line and neither wants to give an inch.
Cardone is a master marketing guru and renowned author who excels in real estate investing, hosting speaking conferences, and educating young investors. He gives us some of his background in sales, and discusses how he actually got started by selling fish, door to door.
Right from the opening bell, these two sales superstars can't agree on anything, which makes for some highly entertaining, and very heated, debate. Verbal body blows are exchanged so ferociously that at one point, Cardone actually challenges JB to a real-life cage match! This tossing of the gauntlet really takes the "no-holds-barred" nature of the Wolf's Den to a whole new level…
Make sure you watch to cheer on your favorite mentor!
EPISODE #15 - Cindy Eckert
Who says men should have all the fun? Cindy Eckert saw a need in the market for women with low sex drives and turned her hunch into a billion-dollar fortune.
She took on social morays, and won.
She's took on the pharmaceutical industry, and won. 
She took on gender bias, and won.
She's took on the FDA, and won!
She has founded and helmed multiple successful companies; she continues to help and empower other female business-owners, and still fights daily for women's rights in the workplace.
This lady is a Boss with a capital B and she tells a billion-dollar story that is sexier than 50 Shades of Grey. She and Jordan delve into such topics as women in the workplace, Elizabeth Holmes, Trump, and the 6 steps YOU can take to achieve greatness. This is one podcast you can get charged-up for, and you won't need a pink or blue pill to do it!
EPISODE #16 - Chris "Drama" Pfaff
Chris 'Drama' Pfaff grew up with his feet glued to a skateboard in the heartland of Akron, OH, while his head dreamed of coming to California, the true skater's Mecca.
He rode his board, and the success of his cousin Rob Dyrdek — a pro skateboarder and TV star from Rob & Big and Rob & Big's Fantasy Factory – all the way from Akron to L.A. and didn't rest on his laurels when he got here.
Once ensconced in Los Angeles, Chris was able to capitalize on his contacts, and an old-fashioned work ethic, to fulfill his lifelong dream of starting his own clothing line – which became the extremely popular street-wear brand we know as Young & Reckless.
Jordan and Drama discuss the mistakes they have made in business, and in life, and share what they've learned from them that has taken them to where they are today.
If you are someone who is looking to be successful in any aspect of life, you should pay close attention to this podcast and learn the secrets of two masters.
"Don't be a creature of circumstance, become a creator of circumstance," the Wolf tells us. Words to live by.
EPISODE #17 - David Meltzer
David Meltzer is a guy who walks in the door and lights up a room. He worked his ass off, made a hundred million dollars, lost it all through bankruptcy, and then gained it all back!
How many people can say they've done that?
9 months out of law school, he became a millionaire. This guy was Driven with a capital D!
His initial plan was to Work harder, work smarter, and work longer. And that's what he did. And it worked.
But later, he learned that to truly be successful, he had to shift his values and focus on helping other people. By helping them, he would help himself.
The biggest takeaway from this episode, is how David breaks down how you can discover your "why" — your reason for doing what you do — which should be the most important thing in your life.
From being CEO of the 2nd largest phone manufacturer in America, to owning one of the country's largest sports agency firms, this guy has done it all, and then some.
World-renowned white rapper, Dirt Nasty — AKA, actor, Simon Rex – has lived quite the Hollywood life.
He started out modeling for Calvin Klein and Versace, then worked as an MTV VJ before being cast in the immensely popular, Scary Movie film series.
His character of Eminem-style rapper, Dirt Nasty, has become a much-beloved cult favorite, and here Simon dishes on what it was like to play such a defining role.
Joining the fast-growing, "Back to Nature" movement, Simon recently purchased an RV which he uses to unplug, recharge, and travel to remote sites where he can recreate off-grid.
JB and SR get down to the nitty-gritty as they discuss such salacious modern subjects as the changing drug culture, women, dating, #metoo, partying, religion, and, of course, what it's like to make new friends as you are being administered a champagne enema on the roof of an RV.
Whether you're currently on-grid, off, or in between, this is one interview not to be missed.
An Iranian immigrant, Alex Mehr moved to America and got a job working for NASA when he was just 21! That shows you just what kind of can-do, go-getter this guy really is.
He firmly believes that Business and Science are two sides of the same coin, and he takes pride in approaching all of his business ventures with logic, rather than emotion — a choice that sure seems to be paying off huge for him so far.
After noticing a trend in applications starting to develop, Alex boldly quit his gig at NASA, dropped out of a graduate program at Berkeley, and started to develop polling apps. Building on that success, he designed a dating app called, Zoosk, which he eventually sold for $300 million!
Alex and JB, who are old friends, dive deep into online business strategy and entrepreneurship, making this podcast a gold mine for anyone looking to maximize their chances of success!
Mark Lack started paint-balling in high school just as a hobby. Soon he was able to turn this hobby into a 300k a year business! He later put this same kind of dedication and energy into his current business and became a world-renowned expert in online marketing. He is currently a consultant for some of the biggest names and most iconic brands in the US, and is a global leader in the online world.
If you want to learn everything from how to build a small personal brand, to how to market the largest corporations on the planet, Mark not only breaks down the strategy for you, but explains exactly how to do it!
His understanding of social media marketing is unlike anything we've heard before on the podcast. This is one highly informational, and entertaining, interview you're not going to want to miss!
EPISODE #21 - Mark Brazil & Jeff Cole
These two highly artistic entrepreneurs met while working regular day jobs. They eventually discovered that they shared a similar artistic sensibility, which led to them starting a brand that would set the entire art world on its ear.
Jeff manages the artist side, Mark manages the business side, and together they have built a fast-growing and affordable brand that showcases canvas art and photography, paired with motivational quotes. Each piece is designed by Cole, who adds his own unique style to every "Ikonick" piece.
This pair works so well together because they cover each other's weaknesses, and that is what having a great partner is all about. They are now pairing up with other major influencers, like Gary Vee, to create featured collections that are sure to astound.
Keep Ikonick on your radar, because this artistically inspirational team is just getting started!
EPISODE #22 - Cayla Craft
Cayla Craft is as professional as they come! She started her career as a nurse when she was made aware that there was a nursing shortage, thus ensuring she would never be out of work. However, she soon discovered she wanted more out of life.
She changed her mindset about what she wanted, started working with a network marketing firm, and became a millionaire at the age of 26!
From there, she started focusing on a strategy that would allow her to help other women like her achieve their goals. She soon conceived and created the Mommy Millionaire brand, and did just that through lecturing, hands on coaching, and empowerment.
Her advice for getting through tough times: Use the pain you experience to motivate you toward achieving the life you want.
Be sure to stay tuned until the end, because she gives us her top 5 things we can do right now to change our lives and join her in the millionaire club, whether you're a mommy or not!
EPISODE #23 - Jay Abraham
Jay Abraham is considered one of the top marketing gurus around. And he doesn't just stop with businesses, this cat has actually consulted for some of the biggest countries in the world! You know you're a pro when entire countries call up requesting your service…
Jay sits down with JB and drops knowledge bomb on top of knowledge bomb – bright pearls of wisdom that can be highly beneficial for you and your life. Among other things, these two business titans dive into how business is different today than it was before the internet, and break down how we connect with clients and peers differently.
Jay talks about how, when he analyzes a business, he doesn't just look at the marketing, but rather the business as a whole, and when Jordan asks him how he sees himself, Jay weaves one of the most fascinating answers in podcast history!
Be sure not to miss this one!
EPISODE #24 - Raiam Santos
Raiam Santos made it all the way from a South American ghetto, to the Wharton School of Business, and from there straight into a life of luxury with millionaire status in America. If you don't think you can learn a thing or two from this guy, you're crazy.
But this podcast isn't all business. When Raiam and JB dive into the topic of having sex with Russian models and the effects it's had on their lives, and then compare notes on which countries have the most beautiful and fun females, things get salacious, and hilarious, real quick.
Raiam fought through crushing poverty, seemingly insurmountable immigration issues, and a deep depression that prompted not one, but two, suicide attempts – and came out the other side living the life of a sultan. He is now known for his Best selling book in Brazil and is now teaching people 120 ways how to make money online and help people become nomads and make tons of money online.
It's a rags-to-riches success story like you've never heard before, and will likely never hear again…
Meet Kevin (not to be confused to his lesser-known brother, Veggie Kevin) is a self-made real estate broker and world-renowned YouTuber who made his bones deconstructing other people's podcasts and exposing the fallacies of (those whom he considers to be) phonies.
He popped up on the Wolf's Den radar when he did just that for the now infamous, Grant Cardone Vs. Jordan Belfort podcast, and oh boy, did Kevin let ole GC have what for…
But this isn't the first time Cardone has met Meet Kevin. Oh no, far from it. In fact, some time back, in Florida, (where else?) Meet Kevin, in all his impish, hipster, pranksterism, actually dressed up like a Christmas Elf and hand-delivered two-hundred large poinsettia plants to Cardone's offices!
They weren't able to get much work done that day at GCHQ, as no one could find their desk, but damn if the place didn't look festive!
Cardone went so far as to sue MK at one point in their ongoing feud, but the suit was not met meekly by Meet, and he was able to get it dismissed! Hear how he did it, and a whole lot more, by tuning in to this high-energy, anything goes podcast!
PS Thanks for the edibles, MK. I personally ate my weight in chocolate-covered pineapple. It was tres delish!
EPISODE #26 - Agent Coleman
In this very special podcast, Jordan interviews none other than Agent Coleman, the very same man who busted him and sent him away to camp back in the day, as seen in the blockbuster feature film, The Wolf of Wall Street. Only Agent Coleman is no actor, and the stories he tells are real. These two former adversaries — turned good friends – dive right in and discuss how the whole cat and mouse game between them actually went down, how JB avoided prosecution (for a while) and who some of the other players were. They then segue into everything from Hillary's emails, the existence of The Deep State, how Coleman was banned from the entire nation of Russia, James Comey, The Trump scandal, and much, much more. This is one podcast you cannot miss! In the immortal words of Johnny Utah – not to mix movie metaphors – "I am an F…B….I….. Agent! And I order you to check out this podcast for your own high quality edutainment!!!!
EPISODE #27 - Lauryn Evarts Bosstick & Michael Bosstick
The Skinny Confidential HIM & HER Show is like attending happy hour with your best friends. Lauryn Evarts Bosstick & Michael Bosstick have a conversational interview style that allows them to dive deep into a wide range of topics.

Today, they bring this jovial, highly informed energy into The Wolf's Den where they mix it up with JB over everything from Alpha and Beta personality types, to motherhood and having sex while pregnant, to marketing algorithms, social media monitoring, dating apps, what women really want in a man, and the best ways to use coconut oil in bed… This is an unfiltered and honest discussion that touches on all the hottest topics of the day – one sure to enlighten and entertain.
EPISODE #28 - Matt Barnes
Matt Barnes is an American, retired professional basketball player who played 14 seasons in the NBA. Barnes was drafted in the second round of the 2002 NBA draft by the Memphis Grizzlies. He won an NBA championship with the Golden State Warriors in his last season with the league in 2017.
In this wild and wooly podcast, Matt and JB puff, puff, and pass around such topics as the benefits and legality of marijuana, smoking weed on game day, the MOST money JB ever had, Hollywood clubbing and hanging with movie stars at 18 years of age, penis size (!) and a whole lot more. Light one up, press play, and enjoy!
EPISODE #29 - Greg O'Gallagher
Greg O'Gallagher is famous for his movie star body, patented Kinobody workout regimen, and hilarious YouTube videos where he parodies Christian Bale in his most famous movie roles. Greg and JB get real fit, real fast, as they discuss their life's passions, getting and staying in great shape, and their shared love of film. The convo takes a slightly prurient turn as JB discusses his party heydays in the 80's and how he wished BlueChew existed back then… If you're interested in looking great in your bathing suit, and have a fondness for movie stars, their physiques, and movies themselves… this is the podcast for you… What kind of workout do you get after?
EPISODE #30 - Vitaly & Kinsey Sue
When's the last time you saw a real Quaalude? Well, here's your chance. Just don't pop a handful and try to drive a Lambo to the country club… Vitaly is known as the Russian king of the YouTube pranksters — he has more than 10 million subscribers and billions of views — and his unbelievably smoking hot girlfriend, Kinsey, is his American Beauty partner in crime. These two are the greatest international connection since Rocky met Drago in the ring. So, whether it's getting busted by the po-po or discussing the four phases of a Lude high – planning future pranks with this trio is a pretty easy affair!
EPISODE #31 - Ceara Lynch
Ceara Lynch is a professional humiliatrix and fetish video producer. She has a documentary that has recently come out called "Ruin Me."
EPISODE #32 - Evan Carmichael
Evan Carmichael made his first fortune at just nineteen years of age, and he hasn't looked back since. His current passion and focus is on YouTube. JB and Evan dig into the guts of how to benefit from having your own YouTube channel, the tricks to getting more views, and what it takes to go viral.
In this episode, JB welcomes his good friend, Brad Lea — legendary influencer, entrepreneur, motivator, and founder of Lightspeed Virtual Training — into the Wolf's Den to discuss everything from JB's now infamous on-air take-down of Grant Cardone, to how to solve the illegal immigration issue, to #metoo sexual harassment and the Weinstein problem, to trading the state of Alaska to Canada. See (and hear) two all-time business titans mix it up mano-y-mano and toss around the hottest topics of the day.
EPISODE #34 - Terry Winter
Terry Winter is the creator, writer, and executive producer of the HBO television series Boardwalk Empire (2010–14). Before creating Boardwalk Empire, Winter was a writer and executive producer for the HBO television series The Sopranos, from the show's second to sixth and final season (2000–2007). In 2013, he wrote the screenplay to Martin Scorsese's The Wolf of Wall Street for which he was nominated for an Academy Award for Best Adapted Screenplay.
The Wolf of Wall Street TV show, written by Terry Winter, coming soon!
EPISODE #35 - Josh Altman
On this episode of The Wolf's Den, Jordan sits down with LA's top realtor to explain how he got started, and what steps anyone can take to start building a real estate portfolio.
EPISODE #36 - Marshall Sylver
In this episode, Marshall Sylver, a hugely successful entrepreneur, motivational speaker, author, and performance hypnotist that can move people in amazing ways, organizational success to orgasm.
There are many new arrows for your quiver in these Podcasts!
Jordan and Michael discuss:
• Fear is telegraphed – If you are afraid to buy things, you will likely show your fear when selling.
• Frame what you are selling – Don't ask the buyer, as the salesperson (you are the authority) guide and tell them, paint the picture.
Watch for Spanky Spanky! Those around you will try to hold you back. You are amazing, you will fly above where you are.
• Self‐Mastery ‐ Take Action, Be Certain (Have no doubt!)
• Pull Ahead of the Herd ‐ Be the hardest worker, get paid.
• Elicit An Outcome – Paint the picture, they will buy it.
• Empathy ‐ Have a empathy, become your buyers mind.
Use their language.
You owe it to yourself to watch this video. This man will help you change the world. I am bringing you "The Best!" JB
In this episode…Bob Menery, the broadcasting phenom and comedian, tells his truly incredible "drugged-out caddy to broadcast-baddie" story, while JB launches questions and tee's up the backstory for the legendary Wolf of Wall Street Lamborghini scene. If you ever wanted to learn how to rack up millions of followers…with just a microphone…this one's for you. This guy had us all cracking up laughing. Check it out.
EPISODE #38 - Adrian Morrison
The Absolute Champion of Internet Advertising, Adrian Morrison, makes a believer out of Jordan, which is saying everything! Why can't this be you? The 'one-two punch' to winning, is through (1) HARD WORK and (2) KNOWING YOUR 'WHY'… this one will throw gasoline on your fire!
EPISODE #39 - Bryce Hall & Josh Richards
The ultimate knock-knock answer for the TIK TOK video platform… Bryce and Josh (and Chase) shoot a Live Tutorial with Jordan for a scene from The Wolf of Wall Street. These guys are the cutting edge of monetizing cutting videos. Unplugged, they give us the inside tricks of 2019 internet business platforms… It's an amazing new world.
EPISODE #40 - Anthony Morrison
Publishing and marketing genius, Anthony Morrison, teaches us how to follow our best forks in the road, while making millions quickly, methodically, creatively, and ethically. Colossal success is awaiting you; watch this.
EPISODE #41 - Amanda Cerny
Amanda has 45 MILLION TOTAL FOLLOWERS…so you know I had to sit down with her and hear about this massive rise from Playboy centerfold and viral video vixen…to Queen of Social Media and kick-ass female entrepreneur. You have to hear it to believe it.Amanda has one of the top five most viewed Instagram story accounts in the world. And as a model and actress she's worked with Millennial Films, Lakeshore, Paramount, Universal, Comedy Central and NBC, and has also directed, written, and produced more than 3,000 comedic skits and music videos featuring top actors, musicians, and some of the most influential personalities in the world. She is the co-founder of a new video on-demand service called ZEUS.
EPISODE #42 - Kevin Connolly
Kevin Connolly is best known for his role as Eric Murphy aka "E" in the HBO smash hit: Entourage. He also appeared in the blockbuster films: The Notebook and He's Just Not That Into You. Today, Connolly has a skyrocketing career as a director, having directed multiple acclaimed episodes of TV for The Oath and Snatch, as well as the films: Dear Eleanor and Gotti. He began his career at age six, appearing in commercials, including the "Betcha bite a chip" campaign for Chips Ahoy!. In 1990, he landed his first film role, as Chickie in Rocky V. Two years later, Connolly was cast as Shaun Kelly in the film adaptation of Myron Levoy's novel Alan & Naomi, and co-starred with Tobey Maguire in the Fox sitcom Great Scott!. His appearance in the series later earned him a Young Artist Award nomination for: Best Young Actor Co-starring in a Television Series. After this, Connolly continued his climb to stardom with roles in Unhappily Ever After, Wings, Getting By, and ER. Like JB, Kevin was born and raised in New York.
EPISODE #43 - Dr. Joseph Rosado
Can weed improve your sex life? Reduce pain? Ease anxiety? Save your life? Dr. Joseph Rosado makes the massive case for cannabis. A pioneer in the medical community and trusted expert on the benefits of cannabis, Dr. Rosado talks with JB about how to use weed to optimize multiple areas of your life. The Wolf discusses some of his experiences with the drug (Spoiler Alert: Not great!)…and together, they discuss how cannabis can help you with specific health issues, improve performance, aid in recovery, and so much more. Dr. Rosado is regarded as a foremost leader on medical marijuana, and known for his groundbreaking insights, guidance, education, inspiration, and motivation regarding the drug. He was one of the first doctors in the Southeast to recommend cannabis to his patients as a natural alternative to traditional medicine. Fast Fact: According to Forbes, medical marijuana sales are projected to top $13 billion in 2020. As a consultant, Dr. Rosado proudly shares his vast knowledge of cannabis and its effects with Police Agencies, Community Groups, and Medical Associations. His book: "Hope and Healing: The Case for Cannabis" is available now.
Our favorite "quick hits" from the Wolf's Den podcast in 2019. With appearances by Grant Cardone, Josh Altman, Ed Mylett, Dan Fleyshman, and Patrick Bet-David.
Our favorite "quick hits" from the Wolf's Den podcast in 2019. With appearances by Logan Paul, Amanda Cerny, Bryce Hall & Josh Richards from TikTok, Tommy Chong, and special guest: FBI Agent Gregory Coleman.
EPISODE #44 - Pejman Ghadimi
Pejman 'PJ' Ghadimi and JB discuss the best "life hacks" for aspiring entrepreneurs and hustlers. If you like expensive watches and tricked-out cars, you need to check this out.
EPISODE #45 - Albert Preciado
Albert and JB take you to business boot camp. These two titans share their advice on how to start a new company, how to scale, and how to turn a ma$$ive profit.
EPISODE #46 - Edwin Arroyave
Edwin tells JB how he went from a 1.8 GPA in school to a mansion in Beverly Hills. You may know Edwin as a successful investor, fitness fanatic, or from his appearances on the hit show: The Real Housewives of Beverly Hills.
EPISODE #47 - Dr. Shawn Dill & Dr. Lacey Book
We did another one. JB and these top chiropractors go "Back 2 back. They go back 2 back… " on Sales & Marketing in the Health & Wellness industry.
Kris "Da Shark" Gomez sits down with JB to talk flipping houses for massive profits. This is a guy who dropped out of school (with no GED!)…and now he's crushing it in the real estate game. He and JB trade secrets on how to close anyone who's closable.
EPISODE #49 - Lewis Howes
From crashing on a friend's couch…to Forbes and Fast Company. Former pro football player Lewis Howes steps into the Wolf's Den to talk with JB about his career as a lifestyle entrepreneur, high performance business coach, and keynote speaker. After retiring from sports, Lewis went from aimlessly crashing on a friend's couch in Los Angeles…to creating the "School of Greatness." And in the process, transformed himself into a world-class entrepreneurship expert, a New York Times bestselling author, and a Top 100 podcast host.
EPISODE #50 - Brett Ratner
The Wolf breaks down his storytelling secrets & Explains how you can use them to win at life and in business. Then, JB shares some more classic tales and brings on Brett Ratner (Director of RUSH HOUR, RED DRAGON, & X-MEN: THE LAST STAND) for more storytelling, as well as the best practices for using stories (and really, marketing) to succeed in any industry. Also Steven Spielberg, Chris Tucker, and the importance of having a great mentor.